It's hard to believe that over six years have passed by since I created this spring garden theme Baby Sip and See * for a client, but as the saying goes, time flies when your having fun. I have shared these photos on an old blog, but thought I would re-share them here. Note: these photos were taken with an old cell phone, so they are not the best quality, but I figured they were clear enough for those looking for garden party inspiration or spring decoration ideas.
What is a Sip and See? A Sip and See is a gathering and an opportunity for new parents to introduce their new baby to friends and relatives during a festive occasion.
Upscale farmhouse country decor
The whole spring theme for this baby sip and see was created around three faux eggs. My client had previously purchased them when their son was born and she thought it could be a fun starting point for the party theme. One egg had her son's date of birth on it, one had the month, and one had the baby's name. The eggs were presented to me in a box and I was asked if I could figure out a way to use them at the party. But of course I could! I instantly envisioned them in a nest (of course) and showcasing them on top of a custom designed cake. More on that cake later.
Once the cake design concept was approved, I proceeded to create a simple, but upscale farmhouse country feeling for this gathering. It made sense since I had previously styled this home for a corporate Christmas party, and that too had an upscale farmhouse country theme that worked with the homeowners decor and design preference.
Let the shopping begin! For this spring party theme, I knew I would be using birds, nests, ivy, grapevines, and other natural items.
Springtime Front Door Decor
For the front entry I added grapevine topiary cones to the urns, then wove in faux vines and added simple burlap bows to the urns. During one of my driving excursions around New England, I picked up a beautiful twig and pussy willow wreath at a home and lifestyle store. I was first thinking of using it on the buffet table, but I came up with an alternative idea for the table, as you will see later, and it ended up being perfect on their front door. .
Below is the before picture of the home's front entry. All it took was a few simple touches to dress up the porch.
As soon as guests entered, garden seed packet favors were made prominent so that they would know to take one when leaving. I laid a few on the entry hall table, atop a sheet of roll out moss.
For height and dimension, I found a wire basket with burlap, then added a small white picket fence (I found it in the fairy house section of a craft store), live potted thyme that my client could use or plant after the party, then I taped a few packets onto picks and stuck them into the soil of the herb pots.
While out shopping, I came across these cute bird houses and thought it would be fun to use them in the buffet centerpiece. When I saw the three different sizes, I knew right away I would buy now of each to represent the families three children. I thought it would be a fun way of acknowledging their three children and they would have a birdhouse to hang after the party. Of course the smallest birdhouse represented the baby.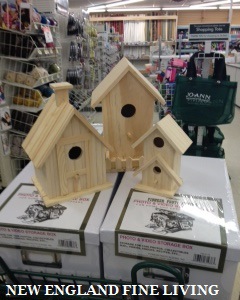 Each bird house represent one of their children at the party
The photo below was an initial staging at my home to see how I would set up the buffet table at my client's home. I decided to paint the birdhouses white then I added name tags, with the name of their sons, to each one.
As a base for the centerpiece, I asked my husband to cut a slab of wood from an oak tree that had fallen in our back yard, then I coated it and sealed it with a satin polyurethane . Once on the table, with a sheet of felt under it to protect the table, I placed the birdhouses on top of it and surrounded the centerpiece with live potted ivy and moss.
The caterer used this table for the hot and cold buffet and intertwined the ivy with their platters of food.
it's a rare occasion that I don't use votive candles during a party or celebration. They add that little extra touch of personalization and ambiance.
For the dessert table, I picked up a couple of antiqued birdcages, grapevine topiary balls, live potted ivy, and candles. A little bird was added as a whimsical finishing touch for the children.
This bird cage centerpiece vignette was where the caterer placed their dessert platters and stands.
There are times I will wait until the day of a party or event to grab flowers, but since white hydrangeas were a key part of the design, I pre-ordered them through one of my vendors. The day before the party, I picked them up and prepped them for the next day. The stems were given fresh cuts and then I crushed the ends of the woody stems with a hammer so that they would draw up water better. Nobody wants wilted flowers at their party! To make transporting them easy, I placed them in a plastic wastebasket, which was then used for my trash and cuttings during set up.
You will see the finished product in the cake photos below.
Here is one of the very rough sketches my client ended up approving for the cake design. When designing this particular cake, I wanted to do something simple, but not too simple.
With drawing in hand, I headed to a local bakery and had it made.
Picking up the baby sip and see cake and brining it to my clients was a bit nerve wracking to say the least, but it made it!
I successfully got the cake on top of the cake stand and proceeded to adorn it with live ivy, the nest, and then surrounded it with live hydrangeas I cut and put into small containers.
Remember the three eggs I mentioned earlier that started it all? Here they are in a nest I found during one of my shopping excursions.
Notice I used another accessory with a bird and placed a votive candle inside.
On a nearby coffee table in the family room, I used a cloche with Spanish moss, a battery operated flickering candle, and a butterfly. A green bow was added to match the green bows around the Hydrangea pots I decorated earlier.
In the living room, little wood boxes of faux green grass and grapevine balls adorned the fireplace mantel and burlap bows were added to the candle hurricane holders. If my memory is correct, I purchased the votives for the Christmas party and had the bows on them too. The acorn on the table was also from the previous Christmas party and used as a coffee table centerpiece later.